Read a short note from Dr. Shoba Subramanian on World AIDS Day: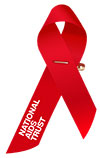 "The theme for this year's World AIDS Day is global solidarity and shared responsibility – something that will resonate with so many of us, in light of the unique challenges we've faced this year. World AIDS Day is a day for us to unite globally to show support for people living with HIV and to remember those who have died from AIDS-related illnesses.
"World AIDS Day remains as relevant today as it's always been, reminding people that HIV infection maintains a significant worldwide presence, with an estimated 38 million* people who have the virus globally. There is still a critical need for continued support of the global AIDS response, to increase access to HIV testing and drugs, to maintain awareness of the impact of HIV on people's lives, to end stigma and discrimination, and to improve the quality of life for people living with HIV. We must also pay tribute to those working on the front line to provide vital HIV support services. Today is a reminder that we must all look at what we can do to contribute to the effort to end AIDS and, ultimately, help make the world a healthier place." - Dr. Shoba Subramanian, Medical Director Europe, UnitedHealthcare Global.
--------------------------------------------------------------------------------------------------------------------------------------------
Resources
https://www.worldaidsday.org/about/
https://www.who.int/health-topics/hiv-aids#tab=tab_1
You May Also Be Interested In: