Read a short note from Dr. Phil Sharples on Time to Talk Day: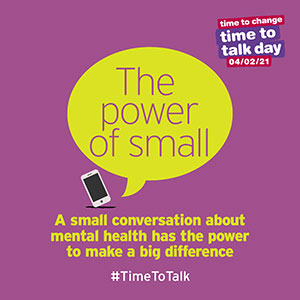 "This past year has tested the resilience and patience of people across the world. However, mental health problems affect close to one billion of us worldwide1, with too many people made to feel isolated and ashamed because of this. Time to Talk Day encourages everyone to be more open about mental health – to talk, to listen, to change lives.
A small conversation about mental health has the power to make a big difference. Simply picking the phone up to a loved one, speaking to someone externally for advice or accessing an Employee Assistance Programme (EAP) can make the world of difference to how you feel. The more conversations we have together, the more barriers we can break down, all can help to end the stigma against mental health problems. This year may feel a little different, but at times like this, open conversations about mental health are more important than ever." - Dr. Phil Sharples, Chief Medical Officer, Global Solutions, UnitedHealthcare Global 
UnitedHealthcare Global has chosen to work with Jayne Carrington, Health & Wellbeing Consultant & Executive Coach who is the author of the 12 Step Resilience Programme. Jayne wrote a piece for Time to Talk day too, relating to the UK, you can read more here.
--------------------------------------------------------------------------------------------------------------------------------------------
Resources
[1] https://www.who.int/news/item/27-08-2020-world-mental-health-day-an-opportunity-to-kick-start-a-massive-scale-up-in-investment-in-mental-health
https://www.time-to-change.org.uk/resources/create-download-materials#/~/embed/resources/collection/565 
You May Also Be Interested In: