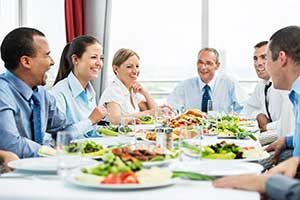 Maintaining a good diet is one of the best things you can do for your health. Following nutritious eating habits can protect you from heart disease, cancer, or other diseases, and is crucial to your overall health.1
Below we've outlined a few top tips to help everyone maintain a healthy lifestyle.
Healthy eating
Adults working full time consume at least a third of their daily calorie allowance during the working day.2 Therefore it is important you make healthy choices regarding what you eat throughout the day.
Make sure you are eating plenty of fruit and drinking plenty of water.3 It can be tempting to turn to unhealthy alternatives, such as fizzy drinks when you feel you need an energy boost, but try to avoid these. Moderation is key, so limit the number of sugary alternatives you choose.
A nutritionally balanced diet has been shown to have many physical health benefits, preventing diseases such as diabetes, heart failure and stroke.4 The UnitedHealthcare Global Optum My Wellbeing app is a great tool that provides helpful information and tips about how to healthily fuel your body. Members can also lean into a health coach who can support with useful tips for healthy eating. In addition, the app offers dietician consultations so members can speak to an expert and work out the right diet plan for their bodies.
Healthy body, healthy mind
Incorporating exercise into the working day has been shown to have huge lifestyle benefits – increasing energy levels and happiness.5 However, you may find it difficult to find the motivation to exercise during the working week.

Nutrition has a huge role to play and can help motivate you to exercise more. Food provides energy for physical activity, and as you get more active and more fit, your energy needs may change.6 To get the energy you require, you need to get the proper amount of protein, which is necessary to maintain and rebuild tissues such as muscles.7 Try eating a bowl of porridge for breakfast and incorporating meat into your lunch to ensure you have a sufficient amount of fuel for the day.
Nutrition on the move
As international borders re-open, many will be spending more time overseas whether it be for work or leisure.8 On some trips, you may find yourself travelling first thing in the morning or late at night meaning hotel restaurants may not be open. This often leaves limited choices and results in fast and unhealthy food. Whilst it's acceptable to indulge in a few local delicacies when abroad, it can be a struggle to keep your nutritional habits on track.
Why not research healthy local dishes and the location of local supermarkets before you travel, so you have all the relevant information enabling you to engage with the local culture and cuisine without negatively impacting your health?
Look for inspiration
Often people find it difficult to find healthy alternatives that are exciting and easy to make. Look to friends and family who may be able to share some new meal suggestions. Alternatively, the UnitedHealthcare Global Optum My Wellbeing app provides tips and tricks on eating healthy and provides a forum for you to discuss recipes with colleagues and friends.
Ultimately, what you put in your body has a direct impact on your physical and mental wellbeing. Therefore, it's vital that you maintain a balanced diet, whether that be at home, the office or abroad. Make sure you are engaging with the right information and taking the right steps towards a healthier lifestyle.
--------------------------------------------------------------------------------------------------------------------------------------------------------------------------------------

Resources
1: https://www.who.int/initiatives/behealthy/healthy-diet
2: https://nhsforthvalley.com/health-services/health-promotion/nutrition/workplace-nutrition/
3: https://www.cdc.gov/healthyweight/healthy_eating/water-and-healthier-drinks.html
4: https://www.sleepfoundation.org/physical-health/diet-exercise-sleep
5: https://vitalityworks.health/the-benefits-of-investing-in-physical-activity-in-the-workplace/
6: https://www.everydayhealth.com/hs/family-nutrition-guide/motivation-to-eat-healthy/
7: https://www.everydayhealth.com/hs/family-nutrition-guide/motivation-to-eat-healthy/
8: https://thevacationer.com/march-2021-travel-survey/
You May Also Be Interested In: