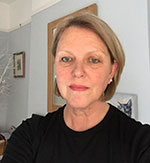 We wanted to recognise the outstanding work of our friend and colleague Judy Mason, who has received a prestigious national Infection Prevention and Control Award from the Nursing Times and a separate NHS Hero' Pride Award from Sunshine Radio. These awards were given in recognition of her incredible contribution to support the relief efforts of the COVID-19 pandemic.
Since April 2020, Judy has been volunteering at the Super Green Clinic in Hereford, UK, which was established to provide a safe space for shielding patients to receive treatment.  
Judy, who comes from a nursing background and has spent her entire career in healthcare, wanted to help the overburdened NHS in some way during the pandemic. Unable to practice clinically, she responded to the Government's call for volunteer help to support the NHS.
Working as a volunteer, Judy has spent her time supporting patients with very serious health conditions, who have been unable or anxious to leave their homes. To name just a few of the tasks she has undertaken, she booked patients into slots with nurses at the clinic, created a medical stores process, managed the staff rota, collated figures for the weekly activity report and managed any additional tasks that needed completing to ensure the smooth running of the clinic.
We are incredibly proud to have people like Judy as part of the UnitedHealthcare Global family, who have continued to contribute to the fight against COVID-19 alongside their normal job roles. This last year has not been easy, but there has been hope and support through the sacrifices and compassion of those like Judy. We wanted to extend our thanks and appreciation to her once again.
You May Also Be Interested In: