Happy International Women's Day, a global day of celebrating the social, economic, cultural, and political achievements of women.
International Women's Day (IWD) is one of the most important days of the year to:
celebrate women's achievements


raise awareness about women's equality


lobby for accelerated gender parity
fundraise for female-focused charities


At UnitedHealthcare Global we want all women to feel valued. We dedicate this day to all our hardworking women on the team that tirelessly push our business from strength to strength – without your commitment our company simply wouldn't be the same.

The past year has thrown a number of obstacles at us, but collectively we've shown resilience and determination to fight back. Today we recognise all the amazing women that make up and dedicate themselves to the health care industry. We want you to know how much we appreciate the work that you do to keep our world safe and that's why International Women's Day is so important in recognising the challenges many women have overcome to achieve their goals and protect what they believe.
How to get involved and show your support
It's important that together we strive to build a world in which fosters positive change for women everywhere. There are so many ways you can get involved in this year's International Women's Day.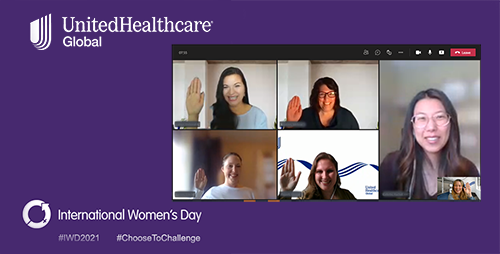 The UnitedHealthcare Global team is inviting you to send in your #ChooseToChallenge images, as we share images from around the world in support of International Women's Day 2021. Strike the #ChooseToChallenge pose (like the picture example approve) by raising your hand to show your commitment to choose to challenge inequality, call out bias, question stereotypes, and help forge an inclusive world. Post this on our LinkedIn feed with the hashtags #ChooseToChallenge #IWD2021 #uhcglobal. All gender identities welcome.
There are plenty of other ways for groups and individuals can mark the day, some ideas include hosting a virtual event, listening to a female-led podcast, launching a new initiative to raise awareness or simply donating to a female-orientated charity. There are so many different stories to be told and so many women that don't have the platform to be heard. It's important that we bring as many people as possible together to mark this historic occasion and help make a positive difference for women.
To learn more about International Women's Day you can visit the website here: https://www.internationalwomensday.com/
You May Also Be Interested In: