October 10th is World Mental Health Day
Read Dr. Shoba Subramanian's note on World Mental Health Day: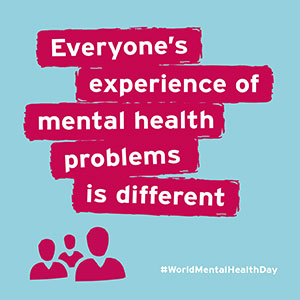 "Mental health issues will affect one in four of us at some point in our lives.1 The World Health Organization has also found that cases are rising in most countries of the world.2
This year especially, people around the world have been put under unique pressures and stresses, with many families separated by local lockdowns. To help combat this, healthcare providers, governments and communities are taking more action than ever, but there's still much more we can do. No one battling a mental health issue should suffer in silence. I would urge anyone struggling to talk to someone they trust, whether that be a doctor, family member or friend.
It is also important to make yourself aware of the mental health support that you have at work. You may well have access to an Employee Assistance Programme (EAP), which can help you manage issues such as stress, anxiety and feelings of isolation. Make sure you communicate with your employer to understand what you are entitled to and how to make use of that support. The services of an EAP are typically available online or through an app, making them easy to access wherever you are in the world.  
This World Mental Health Day, take a moment to reflect on your own mental health, as well as those around you – why not schedule a virtual coffee with a friend or family member to check in with each other? We can all work together to encourage openness around mental health, sharing support when it's needed." - Dr. Shoba Subramanian, Medical Director Europe, Global Solutions 
--------------------------------------------------------------------------------------------------------------------------------------------
Resources
1.  https://www.who.int/news-room/detail/05-10-2020-covid-19-disrupting-mental-health-services-in-most-countries-who-survey
2. https://www.who.int/whr/2001/media_centre/press_release/en/
You May Also Be Interested In: