Nurses make the difference
Read Dr. David Wang's note on World Diabetes Day: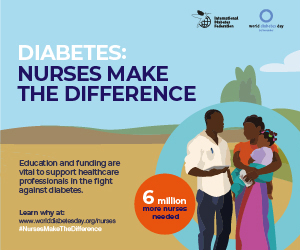 "November 14th is World Diabetes Day, a time to remind ourselves about a condition that millions of people around the world live with. This year's theme is The Nurse and Diabetes, highlighting the crucial role that nurses play in supporting people living with diabetes.
According to the World Health Organization (WHO), the number of nurses trained and employed needs to grow by 8% a year to overcome alarming shortfalls in the profession by 2030. As the number of people with diabetes continues to rise across the world, the role of nurses is becoming increasingly important in managing the impact of the condition. Nurses are often the first and sometimes only health professional that a person interacts with and so the quality of their initial assessment, care and treatment is vital.
Nurses play a key role in:
Diagnosing diabetes early to ensure prompt treatment


Providing self-management training and psychological support for people with diabetes to help prevent complications


Tackling the risk factors for type 2 diabetes to help prevent the condition
There remains a significant need for more education and funding to equip nurses around the world with the skills to support people living with diabetes and those at risk of developing type 2 diabetes. It's important we recognise the importance of investing in education and training. With the right expertise, nurses can really make the difference for people affected by diabetes." - Dr. David Wang, Associate Medical Director APAC, Global Solutions 
-------------------------------------------------------------------------------------------------------------------------------------------------------------------
Resources
https://worlddiabetesday.org/resources/
You May Also Be Interested In: